Starting this Monday I will be hosting a new segment here at Krafty Mum. It will be called Krafty Moments Monday where you will get the chance to show off how you've been Krafty. So come join in on the fun and don't forget to spread the word!!!!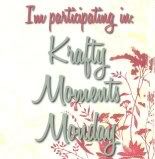 Here's how it works:
You just use Mister Linky to link us up to your blog post that shows something you've been working on (please link to the actual blog post and not your main homepage).
If you don't have a blog and still want to join in you can e-mail me a picture anytime Monday-Saturday and I will show it off in a slide-show the following Monday.
So to start off here's something my friend Sarah made:
Such an adorable idea for holding her daughter's hair bows. Definitely more adorable than the one I did here. Thanks Sarah for letting me share!!!
Now it's your turn: